Repair Logs
---
Ghost 'n Goblins (Capcom) PCB repairs
01/16/2000
Tools: Logic probe, needle nose pliers
Problem: Garbage on the screen, game won't play
I received this board as part of an untested Romstar kit. The board is manufactured by Capcom and has a Romstar paper label on the board.
This is the first PC board I've seen with NO VISIBLE traces. This will be a challenging repair! It looks much different than the other Ghost 'n Goblins boards I've seen. The picture below shows what the PCB looks like. Click the image for a 640x480 view.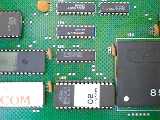 Pin 9 on prom at 2E was bent and not making connection in the socket. I fixed that with the needle nose pliers, being very careful not to break off the pin, and reseated the chip in its socket. When I plugged in the board I still got garbage on the screen. I grabbed my logic probe to see if all the chips were running. Every chip I probed on the top PCB with the card edge connector seemed to be running. I started to turn the board over and set it on the ribbon connectors that join the two boards. When I did this I noticed the startup sequence on the monitor. Could it simply be a poorly seated ribbon cable? I powered down the board and reseated all the ribbon cable connections. When I powered it back up I had a working Ghosts 'n Goblins board.
At the game copyright screen it reads "©1985 Copyright Taito America Corp. Licensed from Capcom". Cool! Now I have Capcom and Taito versions of the board! And the repair wasn't as bad as I'd anticipated.
Solutions: Fix pin 9 on PROM at 2E on the Logic board, reseat ribbon cable connections
---
< Prev Page